Why Following Up is Key in Social Media
December 8, 2011
Typically personal anecdotes aren't appropriate for company blogs and communications, however; when it comes to social media- personal stories are what make and break you.  To illustrate this point, I'm (Kacyn, the Social Media Strategist) going to share a story about the follow-up I received from Red Brick Pizza recently.
On Tuesday I ate lunch at Red Brick Pizza, but while I was there, I used my phone to "check-in" on Foursquare. ¬†Nothing out of the ordinary. ¬†Wednesday, something that shouldn't be out of the ordinary, but is happened… I saw a Tweet mentioning my personal account from @RedBrickPizza asking about my experience yesterday. ¬†WOW! ¬†My Foursquare is linked to my personal Twitter account, and Red Brick saw that I mentioned being at a Red Brick Pizza… so they asked how it was. ¬†I'll be honest, it was good pizza, but it wasn't the pizza that made me floored by Red Brick- it was that they take the time and effort to ask about customers experiences using social media.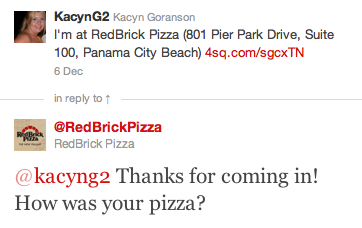 Here is a quick rundown of what they did and what they will get from it:
They saw my mention (takes maybe 5 minutes, depending on the amount of mentions)
Typed a few words to ask me about my experience (approximately 30 seconds)
Read my reply to their Tweet (30 more seconds)
Reply to my Tweet (30 seconds again)
I tweeted about this customer-focus and concern for quality control on two Twitter accounts, Facebook, and Google+ (Their name was seen in a positive light by approximately 3,000 people)
I'm writing this blog about them now, which will also be posted to Facebook and Twitter (Their name will be seen by all viewers on both)
They made me a customer for life (The revenue from a pizza every time I want to eat pizza near a Red Brick Pizza, plus the fact that I typically bring friends to eat with me- which is more revenue)
They also made me a brand advocate (Every time I'm asked about pizza or Red Brick, they will get a positive reference and recommendation from me)
I might not be a million dollar client who eats pizza at every meal, but it took them less than 10 minutes to build a relationship with me which will positively affect their business in the future.  They showed me they are focused on quality control, customer satisfaction, engaging their fans, and so many other attributes.  Imagine what happens after they do this to 10 customers?  50? 100? 500? 1,000?  All of these customers, when impressed like I am, will act as a word of mouth army for Red Brick Pizza- that is power advertising.  It only takes a few minutes, but it can be the difference between staying open or shutting down.
Take a lesson from Red Brick Pizza, and pay attention to what is going on around your business online.  You might win a consumer or client over, and that could lead to more and more!  (Who doesn't need more clients?)
This entry was posted in Articles (Everyday Stuff), Site Promotion, Social Networking and tagged Clients, Customer Engagement, customer reviews, Engagement, Follow Up, Quality Control, ROI, social media. Bookmark the permalink.