Earth's Creation USA website has launched!
November 6, 2012
CYber SYtes, Inc. has launched another great website, Earth;s Creation USA. For more than 25 years Earth's Creation USA has focused on developing innovative products of unmatched quality, their team of experts combines the latest research in nutritional science with the finest ingredients to create quality liquid supplements, private label hair products, diet products and a wide array of vitamin supplements. Their full line of high-quality Earth's Creation supplements will cover all your nutritional needs. Visit their website today!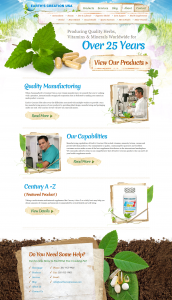 This entry was posted in Articles (Everyday Stuff) and tagged Custom Design, CYber SYtes, florida web design, New Web Design, northwest florida web design, panama city beach web design, web design, Website in Northwest Florida, Website Launch. Bookmark the permalink.