Calhoun Chiropractic Center's website has launched!
November 29, 2012
CYber SYtes, Inc. latest website has launched, Calhoun Chiropractic Center. If you are looking for quality, affordable chiropractic, acupuncture, rehabilitation, massage and auriculotherapy treatment for pain and stress relief in the Panama City Beach area, then check out their page and give them a call today!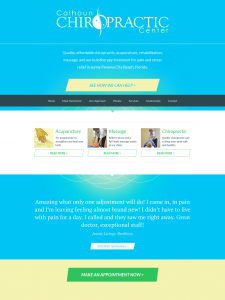 This entry was posted in Articles (Everyday Stuff) and tagged Custom Design, CYber SYtes, florida web design, New Web Design, northwest florida web design, panama city beach web design, Website in Northwest Florida, Website Launch. Bookmark the permalink.