Eastern Shipbuilding website has launched!
December 3, 2012
CYber SYtes, Inc. has launched their latest website, Eastern Shipbuilding. Located along the Gulf Coast of Panama City, Florida, Eastern has grown to become one of today's leading innovators in marine construction and repair. Eastern utilizes both conventional assembly methods and modular construction. This combination of techniques has made their two shipyard building facilities some of the most modern and efficient operations in the country. Check out their website today for more information!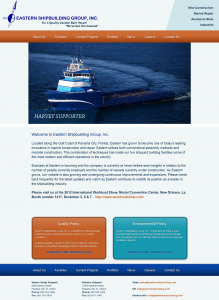 This entry was posted in Articles (Everyday Stuff) and tagged Custom Design, CYber SYtes, florida web design, New Web Design, northwest florida web design, panama city beach web design, Website in Northwest Florida, Website Launch. Bookmark the permalink.