How to use Google Analytics
Definitions:
Digital Analytics – Analyzing data about your website so you can make it better for customers, potential customers, and for your desired outcomes.
Metrics – Measurable data about your website such as the number of users, pageviews, bounce rates, etc.
How to Sign In and View Basic Metrics
1. Sign in to Google Analytics by visiting http://www.google.com/analytics; clicking the "Sign In" link at the top right; and entering the correct account name and password. This loads the Home page and, by default, the "All Web Site Data" view. If your Analytics account has customized views select the appropriate view at the top left of the screen.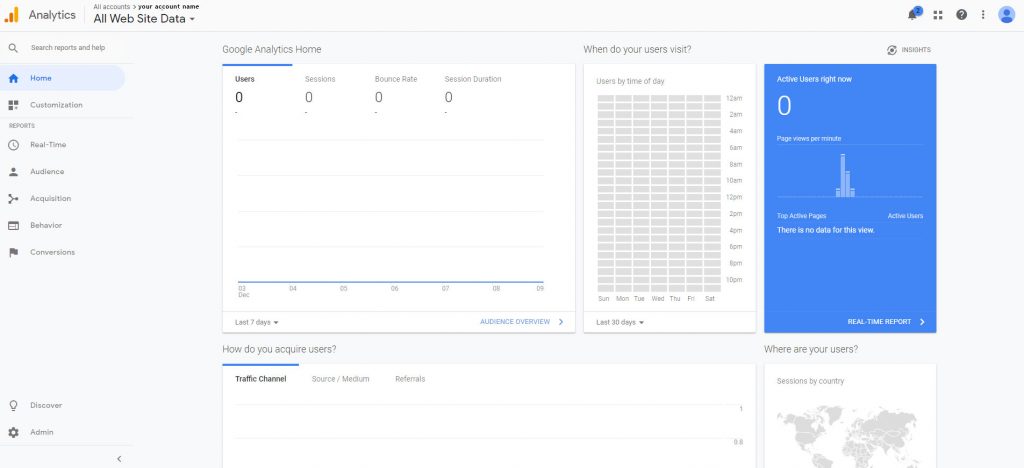 2. View basic metrics on the Widgets section (right side) of the dashboard.
How many people visited our website?
Sessions – A session begins when a visitor enters your website. Sessions stay in effect as long as visitors are actively engaged with the website. Once they leave, or there is 30 minutes of inactivity, the sessions end. The number of sessions will likely include repeat visitors.
Users – The number of visitors who have had at least one session in the selected date range including both new and returning visitors. Because of repeat visitors, the number of users will be fewer than the number of sessions. The number of users is the more accurate metric of how many people visited your site within the selected date range.
How engaged are visitors with your site?
Pageviews – A pageview is recorded each time a user loads a page. A single user may trigger multiple counts of the same page in a single session by going back to a page they have already looked at.
Pages per Session – This is the average number of pages users looked at in one session. The more pages viewed, the "deeper" your users are going into the site and the more engaged they are.
Avg. Session Duration – The average amount of time users spend on the site per session. The longer users stay, the more engaged they are with your content.
Bounce Rate – Bounce rate is the percentage of sessions where users enter the site and then leave without going further. A high bounce rate is not always bad. You can expect some users to read only your newest article or to look for just your phone number. But high bounce rates can also indicate problems. For example, the ads or listings that bring users to your site may be setting different expectations than the pages the users are landing on. A typical bounce rate is between 30% and 60%.
New vs. Returning Visitors – Gives you a quick look at the ratio of first time and repeat visitors.
Tips for Using Google Analytics
Compare metrics over different date ranges to see how audience loyalty shifts or to isolate possible issues.

Additional metrics and more advanced reports are available on left side menu of the Analytics screen.

You can learn more about Google Analytics by visiting the Google Analytics Academy at https://analytics.google.com/analytics/academy/. This site has excellent tutorials and beginner videos, many of which are only five to ten minutes long.
Be careful customizing your account, profile, and view settings:
Changing settings or adding filters can affect the numbers that Google records and lost data cannot be regenerated.
When possible create a Backup View with default settings that you do not customize. That way, you'll always have access to all of the raw data for your site. You may also want to create a Test View so you can try out new settings before you make those changes on your main view.
When you create a new view, it does not bring in historical data. Instead, the data collection for that view begins the day you create the view.
How can we help?
Our Internet, marketing, and web design experts are ready to help with a free, no-obligation consultation. We believe in building long-term relationships with our clients and hope you'll choose to do business with us.
Grow your business and get more leads.
Call us today at 850-233-5514 or fill out the following form to get started.