5 Ways Email Marketing Can Boost Your Business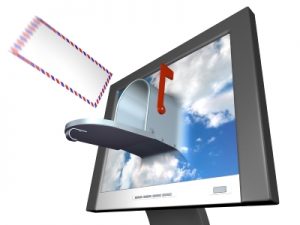 Social Media is huge for promoting your business, but email marketing is still a powerful way to stay in touch with your customers and increase revenue.  Email Marketing has come in and out of popularity more than a few times over the years, but it still remains one of the most reliable ways to market your business.  The reality is people still use and prefer email over almost any other type of communication.  It's quick, effective, and readily available.
Here are 5 ways Email Marketing can boost your business.
Create a list.
Obviously if you want to email people, you have to have email addresses.  Depending on your business, collecting email addresses can be easy or challenging.  Depending on your business, there are several things you can do to collect email addresses.  You can:
Ask for email addresses of all your customers.
Offer a sign up sheet at check-out.
Give them a card with a Tiny-url to your email signup form.
Ask for email addresses on any forms they have to fill out
Regardless of what you do, be sure to be clear as to why you want their email address.  They need to feel safe giving you that information.  Depending one what you are planning, some of the reasons you could tell them for wanting their email is that you'd like to tell them about specials or promotions, sales, giveaways, or new product launches.  If they decline, don't be pushy.  Some people are not comfortable with giving out their personal email address.
Once you get a list started, talk to them, often.
Once you've gotten good at collecting email addresses, it's important to have a regular email newsletter that is sent to them.  This newsletter doesn't necessarily have to be fancy with pretty graphics.  The email can be as simple as a plain text email that is telling them of something new you have going on.
The most important part of this is to email them regularly and consistently.  Reasonable intervals would depend on how often you have something to tell them, what type of business you are in and what your message would be. But, if you have a retail business, every two weeks is probably the most often you'd want to send without expecting unsubscribes.  But, you'll have to feel out your audience/customers to see what works best for them.
Run a contest.
One of the best ways to get your customers to respond is to do something that requires them to do so, like a contest of some kind. Contests are a great way to net responses. Again, a plain text email to your list is all that's needed.  All you need to do is send them a message explaining what they need to do and how to enter.  This is a great way to create a sense of community and get your brand's cheerleaders to work for you.
Advertise specials.
If you are running a sale, the best way to get the word out is sending an email right to your customer's email inbox.  Often times, we have clients that will make the specials only available to those getting the email.  They may do this by including a coupon or promo code that their customers then have to use at the point of sale to redeem.  To get people to respond quickly, you can set a limit for when the special is good and send follow up reminder emails to ensure that people act before the offer expires.
Use it to build suspense on new product launches.
Everyone does it.  They build and build and build, until the product is here in hopes of a huge launch.  Movies do it, Apple does it, restaurants do it.  They do it to build awareness, create demand and get people excited about something new.
If you have a new product coming up, you can tease your customers with sneek peeks, listing of the features, why they're gonna want it more than the previous version, etc. Most email marketing service providers allow you to schedule out emails in advance, so you can set everything up weeks in advance and just watch the campaigns roll out.  By sending reminders, then ultimately showing your customers how they can move through to purchase, this can be a powerful way to set up a huge launch for your next new product.